Mescall Law, PC
New Jersey Personal Injury and Workers' Compensation Attorneys
Mescall Law, PC, is a full-service law firm specializing in personal injury and workers' compensation cases.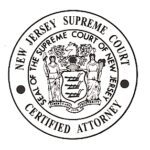 Our managing partner, James C. Mescall, Esq., is "Certified by the Supreme Court of New Jersey as a Civil Trial Attorney".   This certification is only granted to attorneys who are able to demonstrate sufficient levels of experience, education, knowledge and skill in civil trial practice.  The latest available statistics reveal that only 2% of active attorneys in the State of New Jersey have been granted this certification.   Read more HERE.
You want a Certified Civil Trial Attorney overseeing your case because he or she must:
Be a member in good standing of the New Jersey Bar for more than 5 years;
Fulfill ongoing continuing legal education requirements;
Demonstrate a substantial level of experience in civil trial law;
Be favorably evaluated by other attorneys and judges familiar with his or her work; and
Take and pass a written examination in civil trial law.
Why else should you choose Mescall Law?
Our Legal Team has over 40 Years Experience. Although a lawsuit does take time, our team works with efficiency to get you compensation for your injuries as quickly as the legal system allows.   We DO NOT drag our heels and we DO maximize your recovery.
Our Staff is Multi-Lingual – in English, Creole and Spanish – and are available to ensure you are able to clearly communicate information regarding your case.
Our Commitment is to do what is best for you and your case – we consistently take insurance companies to jury trial if we feel a settlement offer is not fair to you. We are willing to stand up and get you the result you deserve.
Our Business has always been referral-driven – most of our new clients come from referrals by satisfied clients.
Our Fee for a personal injury and workers compensation case is based on "contingency" – if we win on your behalf, we receive a fee.  If we don't succeed, you will not be charged a fee.   We are invested in a successful outcome of your case.
Our Location is convenient, in the heart of Essex County in West Orange, New Jersey, just off Route 280 and easily accessible from the Garden State Parkway, the New Jersey Turnpike, Route 80 and Route 287.  Parking is free and our suite of offices is handicap-accessible.
Our Personal Injury Specialties Include:
Wrongful death
Construction accidents
Nursing home injury
Product liability/Dangerous products
Motor vehicle accidents – auto, bus, truck, taxi, motorcycle, pedestrian
Worker's Compensation
Dog bites/attacks
Medical malpractice
Criminal assault
Bicycle accidents
Falldown – slip and fall, ice, supermarket, sidewalk
Premises liability
Disclaimer: The New Jersey personal injury, accident, injury, serious accident, medical malpractice or other personal injury legal information presented at this site should not be construed to be formal legal advice, nor the formation of a lawyer or attorney client relationship. Any results set forth herein are based upon the facts of that particular case and do not represent a promise or guarantee. Please contact a New Jersey Personal Injury Attorney or Medical Malpractice Lawyer directly for a consultation on your particular personal injury matter. This web site is not intended to solicit clients for matters outside of the state of New Jersey.